Pekanov: The demographic crisis is among the main challenges facing Bulgaria – Politics
02 September 2022
17:25

390

6
Cohesion policy is the EU's cohesion policy. European funds under the cohesion policy go to the regions so that they help those regions that are less developed; to those who need to catch up with the center of the EU. This was stated by the Deputy Prime Minister for the management of European funds, Atanas PekanovAtanas Pekanov is an economist at the Austrian Institute for Economic Research (WIFO), in Vienna, from the Czech capital, Prague, during a Facebook login.
"We spoke and defended the position that the European cohesion policy funds and their results should be clearer and closer to the citizens. They should be in projects that help the regions and increase employment, increase the quality of education and healthcare," he added.
We also defended the position that, in addition to the important goals of the green and digital transition, Europe should also work on its demographic problems. The demographic crisis is one of the main challenges facing Bulgaria, Pekanov pointed out.
"Thirdly, we looked for solutions at the European level regarding the energy crisis. The European Union must find such solutions that meet the needs of the individual member countries," added the acting Deputy Prime Minister.
"In my conversation with European Commissioner Elisa Ferreira, I again emphasized the need for the cohesion policy to take clear steps to solve the demographic crisis. We also talked about open cases before Bulgaria, as well as about the difficulties we may have in relation to the Just Transition Fund," explained Atanas Pekanov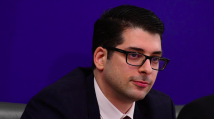 Atanas Pekanov is an economist at the Austrian Institute for Economic Research (WIFO), in Vienna,.
I spoke with the Croatian Minister Natasha Tramishek about the current process of adopting the euro in Croatia and how the citizens there see it, what are the cases and how the society adapts to them, what protective mechanisms the Croatian state has taken to make this process run in the best way way, he added.
"I also had a meeting with the Secretary of State of Germany, Sven Giegold, with whom we talked about the state priorities before us, our work on our membership in Schengen and the Eurozone," concluded Pekanov.
Tags: Pekanov demographic crisis among main challenges facing Bulgaria Politics