Iliana Yotova: Bulgaria must insist on adequate European legislation to protect the external borders of the EU – Society
September 23, 2022
19:57

95

2
"For a long time, our diplomacy should have been much more ambitious and aggressive and insisted on finally adopting appropriate and adequate European legislation to protect the external borders of the European Union (EU), of which we are a part." This was stated by the Vice President Iliana YotovaIliana Malinova Yotova is a Bulgarian politician, 5th Vice President of the Republic of Bulgaria, to journalists in Troyan on the occasion of today's announced partial state of emergency in some regions of the country due to the migrant crisis, BTA reported.
All about the topic:
Migrant crisis 672
"I have been repeating for several years that if we have decided that the migrant crisis is over, we must be naive and irresponsible people. The fact that the migrant waves were of different intensity does not mean that this process has ended," Yotova pointed out.
According to her, there are many reasons for this and economic migrants to Europe will increase more and more. According to her, Greece, Malta, Italy are in a similar situation as Bulgaria – countries that suffered the most from the migrant waves after 2014.
"Unfortunately, this package of European directives and regulations has not yet been adopted. The old Dublin agreement is still in place, according to which migrants must be accepted in the first country – an external border of the Union, as it is about our country," added the vice-president.
According to Yotova, we are working with a directive that was written during the crisis in the former Yugoslavia. "It is not a bad document, but it is outdated and inadequate. So these legislative proposals should be adopted in the European Union as soon as possible and they should become part of the Bulgarian legislation. A much more assertive policy within the European Union is needed," she added.

Regarding the security of our border, according to Yotova, regardless of the help of the Ministry of War, the resource is obviously not enough and our border is compromised in many places, the problem with the canal networks is severe.
As another problem, she also pointed to the overflowing capacity of the migrant centers. "In such a situation, European institutions usually recommend opening new such centers. We have to be extremely careful because we are definitely not ready for such a situation," the vice president added.
Iliana Yotova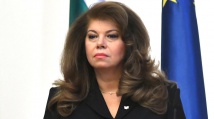 Iliana Malinova Yotova is a Bulgarian politician, 5th Vice President of the Republic of Bulgaria, took part in the traditional festive parade, which opened the 29th edition of the Bulgarian Plum Festival in Troyan.
Tags: Iliana Yotova Bulgaria insist adequate European legislation protect external borders Society