September 14, 2022
15:24

2971

21
Ukraine insists that its army be equipped and trained to be able to repel another Russian attack at any time. A group of countries, including Germany, should give Ukraine political and legal guarantees for its security, says the new concept. The document was presented on Tuesday in Kyiv by the head of the presidential office of Ukraine Andriy Yermak and former NATO Secretary General Anders Fogh Rasmussen. Among the countries that can give Ukraine the guarantees in question are the USA, Great Britain, Canada, Poland, Italy, Germany, France, Australia, Turkey, as well as several Northern European countries plus the Baltic republics.
All about the topic:
Russian invasion of Ukraine 6967
It is explicitly stated that these guarantees do not in any way change the issue of Ukraine's membership in NATO, which will remain a candidate for joining the Alliance, writes DW.
Deputy Secretary of the Russian Security Council Dmitry Medvedev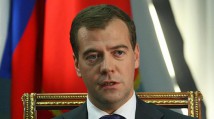 Dmitry Medvedev – the third president of Russia, born on September 14, 1965 in Leningrad, now responded by issuing new threats. In Telegram, he wrote that such guarantees would start World War III. He compared them to the common defense commitment contained in Article Five of the NATO treaty.
"If the Western countries try to weaken Russia in this way, the ground under their feet will burn and the concrete will melt," threatened Medvedev.
The issue of international guarantees for Ukraine was relevant at the beginning of the war, which has been going on for more than 6 months, when the two sides were negotiating a truce. Then there were signals that Kyiv might agree to a neutral status for the country and a refusal to join NATO.