Trump surprised again: I know some details of Macron's intimate life – US
Former US President Donald TrumpDonald Trump – American businessman and politician Donald Trump was born on June 14, 1946 in New York boasted to his close associates that he was familiar with details of French President Emmanuel Macron's intimate life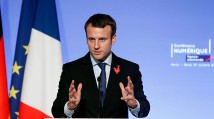 Emmanuel Macron was born on December 21, 1977 in the city of Amiens. He is the youngest president of. This was reported by the British newspaper "Guardian", referring to the magazine "Rolling Stone".
According to the information, during his stay in the White House, Trump found out about "immoral details of the love life" of the current head of state of France. According to Rolling Stone's sources, Trump learned some things with the help of the US intelligence services.
During a search of the billionaire's mansion in Miami on August 8, FBI agents, in addition to classified information, also found folders containing information about the French president. At this stage, however, it is still unclear what exactly was in the documents in question concerning Macron.
Because of this case, Paris and Washington are in continuous contact, and will try to establish what information the former US president had and how "delicate" it is.