The oil base in Kryvyi Rih was hit again by a Russian missile. The fire is severe, reported the chairman of the regional administration of Dnipropetrovsk, Valentin Reznichenko.
Firefighters are on the scene. The scale of the destruction and information about the victims are being clarified.
Earlier, the head of the military administration in Kryvyi Rih, Oleksandr Vilkul, reported rocket attacks and urged people to take shelter.
There were also explosions in Kharkiv. Oleg Sinegubov, head of the Kharkiv Regional Military Administration, urged citizens to stay in shelters.
A little later, Sinegubov announced that as a result of this morning's strikes in Kharkiv a ruined residential building in the central part of the city.
The mayor of Kharkiv, Igor Terekhov, announced that the body of a woman was found under the rubble of the building that was shelled at night. The rocket fire was on the industrial area. However, one hit was on a private residential building.
This morning an air alert was declared throughout Ukraine.
UNIAN reported, citing the Ukrainian Air Force, that another Ka-52 helicopter was shot down, as well as five of the six Russian high-precision missiles launched from the Caspian Sea.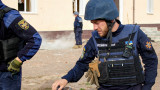 ISW observes disorganization of Russian military in Ukraine
Putin has hinted that he is not happy, and the Ukrainian counteroffensive is paying off