CSKA today made a sensational transfer and managed to attract one of the most talented players in Europe – Girair Shagoyan.
The 21-year-old Armenian is a real diamond. Over the years, he was approached for transfers to a number of European giants, including Chelsea, Sevilla, CSKA (Moscow), Spartak (Moscow) and Porto. TOPSPORT contacted the Armenian journalist Vahe Hakobyan – "vahesport.ru", who shared his impressions of the new "army" jewelry.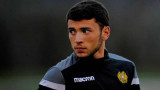 CSKA's new pearl: I'm here! I came to play for you
The club made an inspiring video
"I followed Girair Shagoyan from the age of 15. From the very beginning, he stood out among the other players. He impressed with excellent speed and, above all, quickness with the ball at his feet, dribbling and technique.
He has a flawless shot. His blow is not very strong, but always accurate. He was watched by many European giants and if it wasn't for the situation with the barracks in Armenia, he would have been playing on European grounds long ago.
Shagoyan can play as a left winger or second striker. He is very good in a one-on-one situation with a defender and in speed attacks. CSKA hit the six with this transfer," the Armenian journalist told our media.
Tags: Armenian journalist TOPSPORT CSKA hit werent barracks Shagoyan playing Europe long time