The Bulgarian contender for the "Oscar" award for international film at the National Film Center is the film "Mother" by the director Zornitsa Sofia. This was decided by the selection committee of the Bulgarian proposal, chaired by Maria BakalovaMaria Bakalova is a Bulgarian actress. She is known for her role as Tutar Sagdiev in Boratreported the National Film Center.
"Mother", a co-production of Bulgaria, Germany and Croatia, was selected in competition with "Stock market players" by director Georgi Kostov, "In the heart of the machine" by director Martin Makariev, the animation "Softly spoken" by Henri Kulev, "Petya on my Petya" by Alexander Kosev, the Bulgaria/Romania co-production "Herringbone" by Drago Sholev, "Shakespeare as a street dog" by Valeri Yordanov and "φ 1.618", a Bulgaria/Canada co-production by director Teodor Ushev.
The selection committee was composed of Maria Bakalova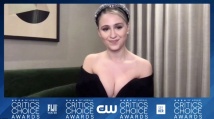 Maria Bakalova is a Bulgarian actress. She is known for her role as Tutar Sagdiev in Borat – actress – chairman, Katerina Lambrinova – film critic, festival organizer, Hristo Hristozov – film programmer, festival organizer, Svilen Dimitrov – director, animator, Katya Trichkova – producer, Kristina Grozeva – director, producer, Alexander Stanishev – cameraman.
The screenwriters of "Mother" are Zornitsa Sofia and Miglena Dimova. Daria Simeonova, Leon Luchev, Daria Dimitrova, Peris Wambui, Steve Mathias, Lamar Munene participate in the co-production. The film will open Kinomania 2022.
Zornitsa Sofia, co-writer and director of the film, has a master's degree in fine arts, majoring in painting. She has written, directed and produced 4 feature films, 2 documentaries and directed 7 TV series, a theater performance and an opera. Her films have been screened or awarded in Shanghai, Sarajevo, Warsaw, Goa, Busan, Cairo, Moscow, Mar del Plata. There are two films that are box office hits, and one is a Bulgarian proposal for the awards of the American Film Academy, the NFC recalls, quoted by BTA.